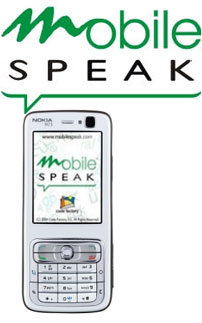 Mobile Speak
POCKET
Code Factory - Mobile Speak Pocket
Code Factory, the leader in accessible solutions for mainstream mobile devices, presents Mobile Speak Pocket®: A full-fledged screen reader that provides innovative access to mobile devices powered by the Pocket PC and Pocket PC Phone editions of the Windows Mobile® operating system. Allowing navigation of the interface and use of applications on mainstream personal digital assistants (PDAs) and PDA phone hybrid devices, Mobile Speak Pocket (MSP) brings portable computing for the blind and visually impaired to a new level of accessibility.
Enjoy unparalleled access to the applications on a Pocket PC device including, but not limited to, Pocket Word, Pocket Excel, File Explorer, Pocket Internet Explorer, Messaging for both SMS and e-mail, Pocket MSN Messenger, PPC Phone application, Calendar, Contacts, Tasks, Notes, and Windows Media Player. To learn more about Pocket PC, click here.
---
More Information
Flexibility to choose and upgrade to any mainstream Pocket PC device meeting the system requirements.
Several Text-to-Speech voices to choose from over 15 supported languages, allowing multiple TTS engines to be installed on the same device and easily selected anytime.
Drivers for different Braille devices such as Braille displays, keyboards with or without refreshable Braille lines, and Haptic Braille printers.
A full-screen Magnifier plug-in that both enlarges and enhances visibility of screen text and icons.
Opportunity to install and use third-party applications such as Audible® Player, GS Player, Resco File Explorer, and Pocket Skype among others.
Multiple input methods through MSP software input panels, as well as integrated and external QWERTY keyboards.
Frequently used commands assigned to virtual buttons accessible to the blind through the touch screen.
A logically structured command layout that is easy to learn and remember.
Support for an advanced scripting language, LUA, to make more applications accessible.
A comprehensive on-board help system for learning commands and available functions.
---
System Requirements
In order to successfully use Mobile Speak Pocket, the following specifications are required:
Operating system - Windows Mobile 2003 Second Edition and later versions for both Pocket PC PDA and Pocket PC phone devices. Note that MSP, in its present form, already runs well on the next Windows Mobile version (WCE 5.5) codenamed Crossbow.
Memory - At least 32 MB RAM, and 2 to 20 MB of storage memory depending on the text-to-speech engine used. An external storage card compatible with your device is strongly recommended.
Hardware keys - Preferably at least four programmable buttons, but two or three buttons will suffice if long presses of these keys are supported and also programmable. On some devices where there is only one programmable button, special adjustments are made to assign function keys to long presses of SoftKeys but please note that such Pocket PCs are not readily supported.
Touch-activated screen - All devices running the Pocket PC or Pocket PC Phone edition of the Windows Mobile operating system have touch screens. However, some online descriptions inaccurately refer to Pocket PC phones as SmartPhones. Devices that are powered by Windows Mobile SmartPhone Edition require Mobile Speak SmartPhone which is a different software product of Code Factory. SmartPhones do not have touch screens, so it is best to make sure the Pocket PC device you choose features a touch-activated screen.
Built-in Bluetooth - A Bluetooth-compliant device is required to run Mobile Speak Pocket. This will also allow you to use Bluetooth-enabled external QWERTY and Braille keyboards, headsets, and other accessories.
Connectivity to a Windows PC with ActiveSync - The device should be able to connect via USB or Bluetooth to a Windows 2000 or Windows XP computer with the latest version of Microsoft ActiveSync correctly installed.
Mobile Speak Pocket has been tested with a number of Pocket PC devices including HP iPAQs, Dell Axims, the Fujitsu Siemens Pocket LOOX, and HTC/Qtek devices. For a complete list of supported Pocket PCs, please refer to the Code Factory compatibility list.
---
To purchase, contact us by email or Toll-Free: 866-339-1180.